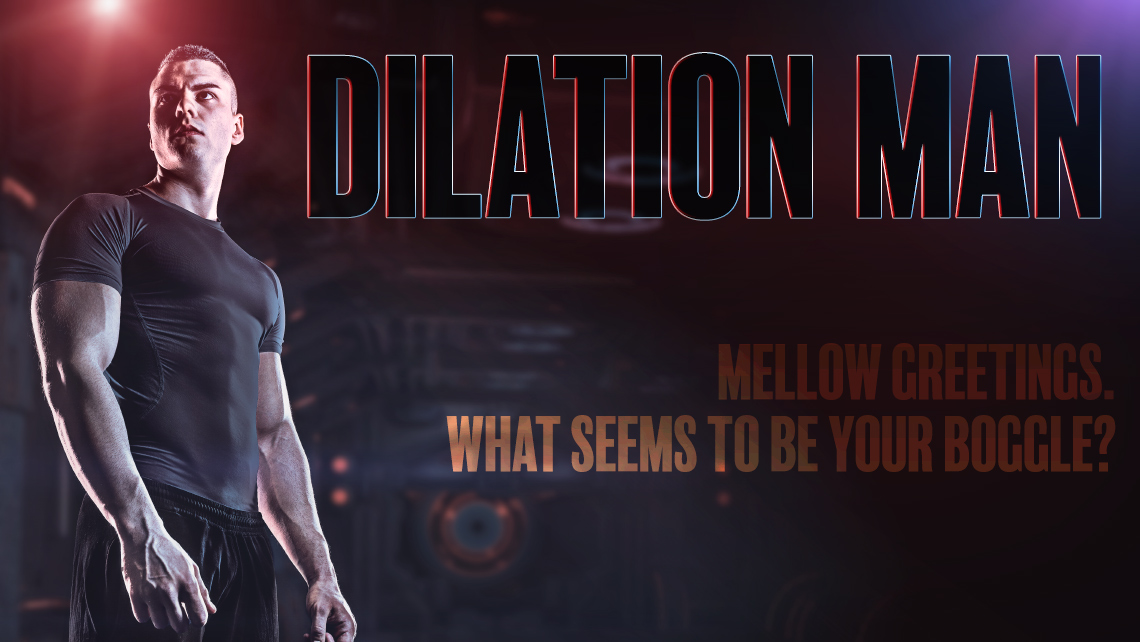 John opened his eyes. The world slowly brightened, but remained blurry. He was very groggy and hazy, and couldn't really remember what he had been doing or where he was. He tried to reach over to his nightstand to grab his glasses, but instead his hand slapped against something cold and metallic. "What the…" he began to say, but was interrupted with a loud hiss of air escaping as the tube he was apparently inside of opened. There was what appeared to be a man (judging by the fuzzy outline of facial hair) standing in front of him.
"Can I have my glasses?" John asked, preferring to be able to see who he was talking to. There was a slight pause, then the response came. "Unfortunately, sir, your eyewear did not conform to the current standards. For safety reasons, they have been incinerated." John thought for a moment. Well, the future certainly sucks so far. "So, how do I…" he began, before being cut off. "I have been authorized to accompany you to an eyewear kiosk in order to order to procure a pair that falls within current standards. If you'll follow me, sir."
John had no choice but to fumble his way behind the officer, still not really sure what was going on. "What, exactly, is an 'eyewear kiosk'?" John inquired as the moved down a very white and fuzzy hallway. "This," said his guide, stopping abruptly. "Simply look into the sensor here, and your needs will be met." John squinted at the device. It looked a lot like an ATM, except this was very sleek and shiny. There was what looked like an opening for a camera towards the top, with a small, impersonal display pad sporting the message: Look Forward and Press Start Button.
John pondered for a moment, then moved in closely to try and find out where this 'start button' was. He was able to find a small green circle that seemed to look a lot like a fingerprint scanner. He shrugged and placed himself in front of the device and put his finger on the button. With a bright flash and whir, the little screen simply said: Processing. Please Wait. After a moment, the screen beeped and a little drawer popped out of the machine. The screen read: Please take your completed eyewear from the drawer. Your account has been billed $2,000. Thank you for choosing Essilux. In the drawer in front of him was a pair of dull, black-rimmed eyewear. John put them on and read the screen that was now in focus. "Wait. $2,000? What the hell just happened?"
The officer looked puzzled for a moment, then attempted to explain. "That is how eyewear is made. The kiosk scans your eyes, determines your prescription, then uses built-in printing technology to create the frame and lenses. They then dispense them, and you pay for them. I'm sure you're familiar with that concept, at least?". John was trying to resist the urge to smack the officer, and was very barely able to hold back. "Well, yes," John began, "but…what about the other things? An actual eye exam with a doctor, for a start?"
"Ah, of course," the officer began, "I'm forgetting about your old ways of doing things. Yes, back in 2020 it was deemed that computerized diagnosis was sufficient to be able to determine a corrective prescription, and it was made commonplace to accept these prescriptions when manufacturing eyewear."
"2020, huh? You would think they would have had better foresight." he chuckled to himself. With a deadpan expression, the officer said, "Those types of jokes were outlawed in 2021, with a mandatory sentence of two years in cryo-education. I would advise you avoid them in the future."  John wasn't sure if that was humor or not, but didn't really want to push it. "Well, what about frame selection, then? Or other options for the lenses? How do they just say 'here you go' and that's it? Isn't there anything else besides this 'Essilux' option?"
"Ever since the great optical wars of 2019, all eyewear brands are Essilux." the officer looked at John quizzically, "Is there some kind of problem with your eyewear?"
John appraised the "medical device", turning it over in his hands. He couldn't really tell what it was made out of. It almost felt like some kind of very dense cardboard, but that couldn't possibly be right. It didn't exactly behave like cardboard. But, then again, it didn't not behave like cardboard, either. Very strange. "Isn't it possible to get a frame that's a little better quality? These Essilux ones seem like they're made of the cheapest material possible – they're junk."
The officer let out a slight gasp as an obnoxiously loud buzzer sounded from the kiosk. A tinny, recorded voice spoke from the metal box John Smith, you have been fined ten dollars for violation of the corporate defamation statute. John stared at the box for a moment, "What the f…" the officer interrupted him. "Ah, yes, that…you should be careful about that. Speaking negatively against massive corporations has been made a fineable offence. It starts at ten dollars, but gets much, much worse. I would recommend putting on the eyewear and going on with your day, sir."
John put the eyewear on in silence, not wanting to risk the wrath of the cold, metal box of justice. Things were still a little blurry, but he figured they were 'close enough'. So long as he lifted his head up if he wanted to read anything. It was easier than getting fined. Again.
As he was adjusting to the eyewear, a nearby door was blown off its hinges by a remarkably well-controlled explosion. John and the officer both instinctively covered their ears, trying not to be deafened by the noise that filled the small hallway. The officer grabbed for a radio and yelled into it, "Alert! We have a breach! I repeat, we have independents in…" he was cut off by a rather large man smacking him in the back of the head with what appeared to be a sack full of lenses. John looked at the sign to the left of the smoking hinges of the doorway. It read Optical Equipment Museum. Behind the man with the sack of lenses there were several others that looked like they were hurriedly packing up all manner of optical equipment – from exam chairs and phoropters to edgers.
John was wondering how he managed to get himself into the middle of a heist, when the man spoke. "You. Are you John Smith?", the man looked at John's clothes,"Must be. They just woke you up, didn't they? Come with me if you want to live." John didn't have the slightest clue what was going on, but figured that he may as well go along, as he figured this group of people was less likely to fine him for his opinions.
He jumped into the back of a truck where they were hastily cramming the equipment. It was cramped and uncomfortable – not completely unlike public transport, now that John came to think of it. Squished in next to John was the rather large and imposing man that had first appeared after the explosion, John figured now was as good a time as any to ask, "Who are you, and what was with that 'come with me if you want to live' stuff? Were they actually going to kill me?" The large man snorted, then grinned, "Of course not – I've just always wanted to say that. The name's Arnold, by the way." They discussed a number of things on their ride to wherever they were heading – mostly concerning exactly what had happened while John was "on ice" as Arnold called it.
It seems that, over the years, the large optical corporations continued to merge and kill off independent competition. They got so large they were able to get the laws shifted in their favor, until they were legally the only ones left that could sell eyewear. Independent practitioners had slowly gone away or been absorbed. That is, until technology got to a point where they weren't even needed. People were able to just go up to these machines, get an 'eye screening', and that was it. They never needed to see a person, and the eyewear was just 3D-printed right inside of the machine. No need for human interaction at all.
Sure, the machine didn't necessarily screen them for all of the possible eye diseases and other things that could be wrong with them, but none of the consumers really seemed to care. They were able to get their glasses quickly and easily – and if they didn't think there was anything wrong with their eyes, then why would they bother going to see a doctor?
The truck let out an almost thankful groan as they reached their destination. The doors opened and a few people began hastily unloading the optical equipment. They were inside somewhere. It smelled damp – probably somewhere underground, John assumed. "So, what's with this equipment, then?" John asked, watching them unload. Arnold jumped out of the truck, "We need it so we can bring back real eye exams. We have everything that we need here to give them the best exam possible – we aren't going to be cutting corners, we want people to be able to see what a real eye exam is like – and the choice and style that they can get from a pair of eyewear that isn't the cheapest thing possible."
John looked a little puzzled, "So, what's with the fireworks and…you know…theft?" Arnold pulled up the collar of his leather jacket, "Well, they don't exactly make this stuff anymore, or make it easy for someone to get ahold of it. They're scared of what might happen if people realize what kind of service they should be getting. If people only ever think they're supposed to stare at some stupid kiosk, that's all they'll ever expect. What we're planning to do? That's dangerous." John nodded. It seemed to make a kind of sense. He did determine, however, that the future was certainly not what he had expected it to be, and that their infatuation with eyewear was really strange.
"So, if they don't make it anymore, do you have anyone that actually knows how this stuff works?" John asked Arnold as they walked into what was once a spacious room, before it had a truck full of optical equipment scattered about in it. "Well…", Arnold began, sounding like he was trying to find the right way of saying something, "Thing is….we were hoping you might be able to do that for us. You see, that's why I knew who you were – we were able to get into their computer system and make sure you were the one that woke up today,"
John pondered this for a moment. Sure, John had some optical training, but he wasn't exactly a doctor, by any stretch of the imagination. He wasn't qualified to do any kind of exam, for sure. John was watching them move the equipment around. It almost seemed like they didn't even know where any of it went. "Listen, the chair needs to go over there, next to the phoropter and slit lamp, and the acuity chart has to go here." He paused a moment. Why do I know that?
Arnold clapped him on the back, "I see it's working already." John gave him a sideways glance. "What, exactly, is working?" Arnold gave him a grin that told him the answer was probably not good for John, "We knew you weren't experienced enough, so we adjusted the program that ran while you were on ice. Gave you all kinds of experience – from eye exams to edging – the whole package. You might not think you know it, but it's all up there," Arnold tapped John on the head, "So, what do you think, doctor, are you on board? Do you want to help us bring back independent optometry and eyewear?"
John thought for a few moments, slowly surveying the exam room. He didn't exactly have a lot of choice – he couldn't really say no. It seemed like this wasn't going to be easy, but he did think they had a shot. They didn't have to take down Big Optical, but they could certainly make their job harder. "I think that Big Optical needs to watch out – because this might sting a little."