Here's where you can find all of the services that OPT can do for you. This can be inclusion in our print/online magazine, or any of our design or social media services. Here at OPT we want you to give the best presentation possible for your business, as that's the first thing that your customers are going to see. You deserve to put your best foot forward, and we're here to help with that.
Magazine Advertisement
We don't run many ads in OPT, as you may have noticed, but it's possible to be one of the select few that get featured. If you think this is something that you'd like to do, please contact us and we can review the details of what you want to promote. Any promotions are subject to the very draconian OPT terms & conditions*.
Distribution
We mail over 40,000 copies of OPT Magazine every issue. This is sent across the United States to Opticians, Optometrists, Ophthalmologists, and other in the eyecare industry (Suppliers, manufacturers, and probably some confused obstetricians).
* OPT Magazine reserves the right to refuse to print any ad, advertorial, or anything else that does not meet with our creative standards and feel of the magazine.
This includes most ads run in a majority of other trade magazines. We will need to change your ad, if you have one already made.
If you are not open to use OPTimizing your ad, then OPT Magazine is not for you.
Advertorials
Content
All advertorials are written by us (OPT Magazine) using information supplied by you about your thing and/or service. We don't want canned, reused press releases. We want to make sure it's written in an easily-understood and entertaining way, so that it fits in with the rest of OPT Magazine, and so people find themselves unable to stop reading it.
Imagery
We will supply any stock images and photo manipulation required to craft the advertorial. We will do our best to use any images you specify, but we have to make sure they fit in with the magazine. OPT Magazine advertorials will aim for a 50/50 balance between text and images.
Notes: As appropriate, the article itself may span two or three of the four pages. If it spans three, the fourth page is a full-page ad, themed with the advertorial. If the article spans two pages, then the other two will consist of a full-page ad, and the other will be an appropriate/attention-grabbing lead-in.
OPT articles and advertorials have approximately, a 50/50 ratio of imagery to copy for each article/advertorial. This is a 'signature' of OPT magazine which also distinguishes us from the rest. We believe our content is to be immersive both visually and in written content.
OPT Media
Social Media Management
Facebook, Instagram, Twitter
5-7 posts per week, as appropriate
Post content: Customized to your business
Content may also include relevant industry news and/or information, as appropriate.
Monthly Facebook Ad (includes ad development)
Ad Reporting
Page statistics and demographics
Includes initial setup of page
Monitoring of comments, reviews, feedback during normal business hours (9-5, Mon-Fri, EST).
---
Hourly Services
OPT Magazine offers design and writing services on an as-needed, hourly basis. Obviously, every project is different, and will be quoted individually. We are more than happy to discuss potential projects at no cost.
Design Services
Logo Design
Brand Identity (logo) Guidelines
Business Cards
Posters, Flyers, Booklets, Brochures
Writing Services
Included with advertorials, OPT Magazine is also available to create content for press releases, brochures, or articles about your business and/or products. Projects can be quoted on a case-by-case basis.
Printing Services
Flyers
Booklets
Brochures
Business Cards
---
If you are interested in any of these services, feel free to contact us: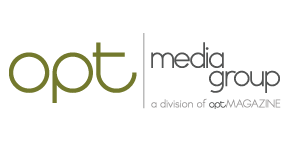 Call Us at:
855.838.2002
---