"Okay, come on Bobby, there is nothing to this."
e sat in his rusty Pinto in the parking lot outside the store. This was his first solo flight, but it should be easy. This guy only has a few stores, so it should be an easy score for Bobby's first day. All he had to do was use the same tactics he used last month when he was selling electronics - some people will spend more if it looks fancier or sounds cooler. Being a sports drink sales rep for Big Sport should be easy for someone like him.

Bobby entered the store and, after a brief wait, was introduced to John, the owner. Now John was easily middle aged - probably more. Bobby was hoping this meant he'd be eager for an easy way out, and that he could get an easy customer out of it. Really, this thing should sell itself, with all of the marketing hype that they put behind it. Since Big Sport has been able to get rid of most of the other little sports drink companies, there really isn't much left to stop them from charging whatever they want, regardless of what actually goes in the stuff.

"So, you're the new sales rep?" John asked, taking a seat behind his desk after shaking Bobby's hand. "That I am. Pleased to meet you. I'm sure you're familiar with our product, as everyone's heard about it. I see you aren't currently a customer, however, and I'm here to change that." John rubbed his chin for a moment, "Now, why would I want to do something like that?" he asked. Bobby reached into his bag and pulled out a few papers, "I'm glad you asked. Now, we aren't just asking you to buy the product – oh, no. We want to help you be able to compete and be your best business ally." It sounded like Bobby was really getting into his spiel, so John thought it'd be best if he just sat back and let him get on with it.

"That's right - we can make you an exclusive partner deluxe super distributor. You just need to sign this multi-year contract, and we'll have you on board." Bobby slide one hand deftly into an inside pocket in his jacket and offered up his special 'contract signing' pen. There wasn't really anything special about it, it just happened to have red ink in it. He had this little personal joke that they were signing the contract in blood. He wasn't sure why that appealed to him, but it did, and he never mentioned it to anyone, since that kind of thing would be a little weird.

"Apart from being a distributor of our products, you are also eligible for our Double Double promotion. This is where we take what you pay for a single bottle, double it, then give you a second bottle for free!"

John didn't seem impressed, "Double double? Did they call it that so it'd be easy for you to transition from fast food service to selling sports drinks?" Bobby decided it was best to just let that one go without comment.




The slightly wary small business owner took a look down at the alarmingly small print on the contact that had somehow appeared in front of him. He took out his reading glasses and put them on, hoping the magnification would help him decipher the text. He didn't even get a chance to try before Bobby interjected, "Hey now, that's all pretty standard stuff, you don't want to try and strain your eyes trying to read that." Bobby's hand quavered slightly, the pen visibly moving as he tried to calm himself with a nervous laugh, "We're a pretty big company, so you can be sure that contract is all on the up-and-up." He tried to keep control of the situation, but the fact that there was a lot more reading than signing happening right now was not a good sign for Bobby.

"What's this part where it says I can only buy Essil-Aide® brand, and that I have to get it from specific suppliers? And this rate that you have listed here is a lot more than what I pay for other drinks. What makes your Kool-Aid so special?" Bobby hid his disappointment and urge to smack his potential customer well, and slid into what seemed like an often-used response, "This isn't Kool-Aid, this is a high-performance, scientifically engineered sports drink that increases reaction time, alertness, and ensures that you can perform your best." John waves his hand dismissively, "Yes, I've heard the commercials, I don't really need you to repeat it again."

So, you're telling me you want me to exclusively sell your brand of sports drink, and carry no other brands. In the meantime, you sell your sports drink directly to my customers online.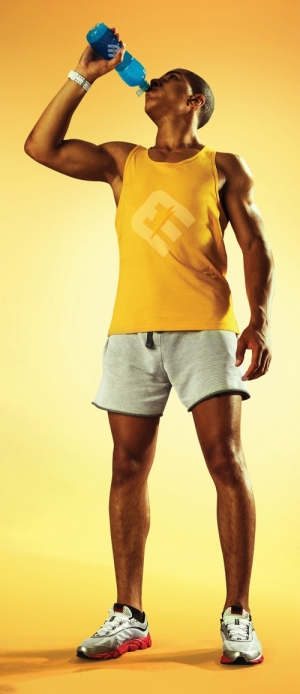 "Oh no, we would never sell this product to consumers ourselves. What we offer direct-to-consumer is a completely different product that doesn't have the features or effectiveness of the Essil-Aide® our partner stores carry." John snorted, "So, you just water it down and slap a different label on it? And you think that is going to help my business how?"

Bobby shook his head, "I don't think you understand how this works. We're the big name - you need us. You sign this piece of paper, we give you a big check, and then you sell our stuff. Sure, you pay more over time, but you get money now. And, let's face it, without carrying a brand like us, you'll probably be out of business soon anyway. You can't survive without Big Sports brand drinks. You need a brand name, let's face it."

John just shook his head, "I don't think I do. I have a few other places I can get sports drinks from - and they don't want me to sign a multi-year contract, and they aren't ridiculously priced either. I'm pretty sure their stuff works better than yours, too, but I'm sure you already knew all of that before you came in here."

Bobby pretty much knew he wasn't getting a sale at this point, so started to get a little passive aggressive. "Who are you going to believe about how our product performs? Some nerds in a lab somewhere with a bunch of PhDs, or the largest drink marketing company in the world? I'm pretty sure that Big Sports knows what they are doing here."

The silence that followed that statement filled the office they were seated in. It was like saying goodbye to someone several minutes before actually leaving their presence. That abrupt ending seemed to sever any other chance at communicating, however here they were, still starting at each other across the desk. Having other things that needed to get done that day, John broke the silence. "I think we're done here. Have a good day," he said in a perfunctory manner as he stood up, trying to make plain to his 'guest' the universal sign of time for you get out of my office.

Bobby stood up slowly, having taken a moment to realize exactly how badly he sunk any chance of a deal with a few simple words. "Well then, I guess you're right. Here's my card, you can give me a call once you realize what a benefit for your business that we are." Since John made no motion to accept the card, Bobby placed it on the desk in front of him before standing up and heading for the door.

"I'll tell you this, kid," John said as Bobby grabbed the handle of the office door and paused. "You're new to this, I get that, I'll give you a little bit of advice. It isn't all about the name, or the hype, or the marketing. I'm sure plenty of people will get all dazzled by a fancy logo and a big marketing budget. That's great for them. Some people, however, want to sell a good product that works for a reasonable price," Bobby seemed like he was going to say something, but John held up a hand. "Just let me finish - you might learn something. Now, like I was saying, some people actually want something that works well, and isn't just fancy colored water. If they want your stuff they can just go online and get it. Hell, they can get it pretty much anywhere. But if I want to be special - to have something that's really going to set me apart - they why would I ever want to put your stuff in here?"

There were several moments of silence. Bobby released the door handle, and gave a few more seconds of silence before he thought he was safe to answer. "You might be right about that. What I've got may have a few fancy labels on it, but there aren't many out there like you. Most of them are happy with the brand, and that's what I sell. I didn't know that before I came in here, but now I do. You want something more from your products that can help you stand out, and what I have just makes you the same as everyone else. I get it. So, good luck to you, but I have a whole list of people that are dying to carry this just because it's got the name." John simply nodded in recognition as Bobby left the office.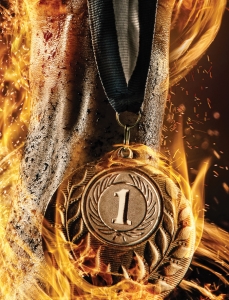 Bobby got back in to his car, trying not to take the loss personally. He didn't like to lose a sale, but it happens. He was used to being the number one sales guy before, and this wasn't really what he thought he was signing up for. As he sipped on one of the promotional samples he kept in the back of his car, he looked at some of the taglines on the bottle, like Run your own Race, and Always go for the Gold. "Good advice, little bottle," he said, tossing the it onto the floor of his car with the others, "He's going to do what he wants in his little business, I'll do what I do. Then we'll see which one of us gets the gold at the end."

"The previous story was, as I assume you've figured out by this point, completely fictitious. And also silly. But, that take away from it is that a brand is not what defines your business - you and the people that work there define it. If you have someone that wants a specific brand, they are going to find the cheapest and fastest way to get it. Brands are not there to help you - you are there to help them. This is not to say you can't make money selling branded products - of course you can - but you need to look at the long term and see how much longer it makes sense for them to let you sell their products before a more profitable method of distribution comes along."



-Michael Jordan
---