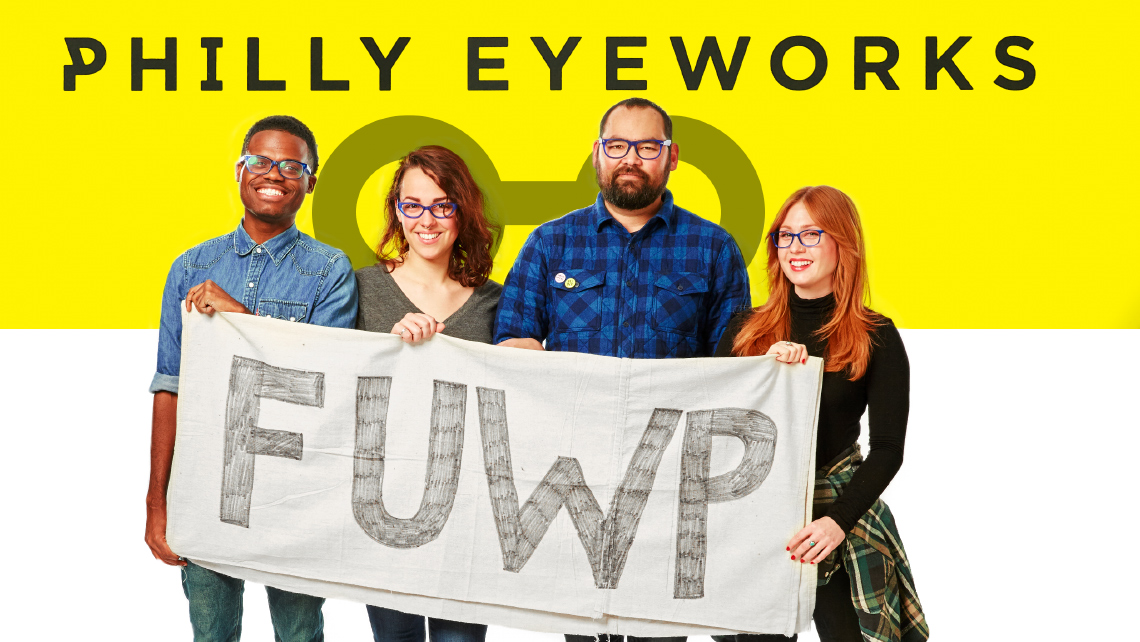 As many of you have seen, online sales are becoming more and more popular. I don't need to tell you that. However, some of the online retailers are also doing a little bit more in terms of 'direction competition' against smaller, local optical shops. One such case happened in Philadelphia with Philly EyeWorks and Warby Parker (WP). You may have read about this, as it was in some newspapers, but essentially Warby went on a national tour to promote themselves by driving a school bus filled with their product around the country. When this came to a spot in Philadelphia, the bus parked itself directly outside of Philly EyeWorks. This wasn't the first time in the tour something like this happened, but I'm sure that's not really a surprise to anyone.
If we fast-forward a little bit, we now have a Warby Parker brick-and-mortar store that opened up in Philadelphia. Only two blocks away from Philly EyeWorks. So, what do you think Cliff Balter, owner of Philly EyeWorks, decided to do about it? Did he just decide to sit back and wait to see what happened? Of course not. He decided to be proactive about it. Instead of sitting inside his store on the day of WP's grand opening, he ran promotion. On the street. Directly in front of the brand new WP store.
You held a protest outside of the Warby Parker brick-and-mortar store – how did that go? Do you feel it made an impact on consumers? Did you have any reaction from WP about it?
I wouldn't call it a protest; I would call it a promotion-we held a promotional event outside of their shop on their grand opening day. We had the proper permits from the city. We promoted our brand Philly EyeWorks outside of their shop, just like they promoted their brand outside of our shop and many other independent optical shops around the country.
It went really well: we met a lot of great people that gave us an opportunity to tell our side of this story. The day before our promotion outside of their shop there was an article written on philly.com and in the Philadelphia Inquirer about the whole story, so a lot of people we met on the street had already heard the story. We immediately received an outpouring of phone calls, emails, people coming into the shop and social media posts.
All of the feedback has been positive.  It's only been three weeks now since the promotion began-a pretty small sample size-but, sales of Philly EyeWorks glasses has more than tripled over the same weeks last year.  Maybe that will subside, and maybe it doesn't have anything to do with the FUWP campaign, but I feel like it's a direct result and I hope it's going to last for a long time.  We have met a lot of people that were unaware of our shop and our brand and there's been a whole lot of energy and excitement about the campaign.  In my mind, there's no doubt that the campaign has been a smashing success for us.
We heard from a credible source that Warby was pretty upset with the article and that they were upset that we were discussing them on social media leading up to the day of the FUWP campaign kickoff.  On the morning of the promotional event, we walked over to their shop around 8:30am (two and half hours before they opened) just to take a look at the sidewalk and figure out where we would stand and we noticed that they had someone sitting on a stool inside of their shop-with all the lights off- keeping an eye out for us. It was like they thought we were going to storm their shop or something crazy like that. To me that was weird because we are just trying to get attention for our small business but they must have seen us as band of barbarians that were out for blood.
I tried to introduce myself to their CEO, Neil Blumenthal in the days leading up to the kickoff/their grand opening but I never got the opportunity.  I went in to their shop a couple of times and asked for him but he never came out to say hello- I don't know if that was because he was too busy or he was angry with me or I am not important enough for him to waste his time, but I never did get the chance to shake his hand.
I make it a priority to have some kind of relationship with all the other shops in our neighborhood. Even though we obviously compete for customers, we are not enemies, and if I can do something to help out another shop or if I need a favor, it is good to be able to go to those relationships.  It doesn't come up often but to me, it's good business and I think it's the right thing to do.
Do your customers understand what your FUWP campaign is all about?
I think that our customers do understand the campaign. The vast majority realizes that it's lighthearted and fun and meant to get our little shop and our little brand noticed. The four letters FUWP is kind of coded, so only the customers that ask about it or have heard about even know what the whole thing is all about and what the letters stand for.  I think the campaign is edgy but not over the edge, and I personally think that it's clever and pretty unique.
We have gotten a lot of new customers from the campaign.  Some of them are responding to the fact that Warby may have decided to try to poach customers from us by parking their marketing bus outside of our shop (and other shops like ours all around the country) and some that are responding to the message of shopping small and shopping local.  The campaign has a lot of layers to it and the seriousness of shopping small instead of feeding large corporations is a big part of it.
Since WP moved into the area, has your business been better, worse, or about the same?
It has only been a few weeks so the sample size is small, but sales of Philly EyeWorks are way up.  I suppose that anyone who is totally appalled by the campaign is not coming into the shop but we haven't had anyone tell us that it's out of bounds in any way. I think that it would be hard for someone to think that our strategy is inappropriate because essentially, we just copied what they did to us and a lot of other shops all over the country.
Do your customers seem more concerned about 'supporting local business' or about 'getting a cheap pair of glasses'? Does this change based on the age of the customer?
I think the short answer is: both.  There are a lot of different narratives here and depending on the person, different parts are resonating with different people.  Today's twenty-something's are a different breed, they are pretty sophisticated in commerce and social issues and they seem to be responding the same as our more mature customers.  I think the fact that Philly EyeWorks is a really diverse brand also plays in- if you love the color purple when you're 22 years old, you probably love purple when you're 45 and 65 too. That's why Philly EyeWorks has always appealed to younger people as well as more mature people.  The combination of supporting local business and getting a really good value is a great combination because it's a win-win scenario.
With the products you offer to your customers (frames, lenses, etc.), how do you continue the 'support local' message? Do you source these from local/independent sources?
At our shop we only sell frame brands from independent companies. But even in cases where a local independent shop sells frames from a large corporation like Luxottica, customers are still supporting the "little guy" if they buy from us because they are still supporting us and keeping a lot of the proceeds in their community.
Do you feel having your own line of frames is a benefit?
We feel Philly EyeWorks is definitely a major benefit to us.  It shows how much we love what we do, it gives us a creative outlet that makes our jobs more enjoyable and it gives us an exclusive product that can only be purchased in our shop or from a shop that we wholesale Philly EyeWorks to.
Do you carry any of the 'big name' frame brands? If not, has that hurt any business (i.e. customers want 'this brand')? How do you handle not having these brands?
Our shop is located in downtown Philadelphia and there are approximately 30 places to buy glasses within a half-mile from us.  Everyone in our area has carved out their own niche and so far, after almost fifteen years, our niche and formula has been successful for us. If we were located in a more suburban area or a rural area then we would probably have a different approach.  Regardless of what product mix a shop has or where they are located, I think that the message of shopping small and infusing creativity will have a very positive affect.
Do you deal with vision insurances? Do they affect how easy or difficult it is to get your patients into your office? Do they have any affect on how easy it is for customers to 'shop local'?
Vision insurance is just a fact of life right now so we do accept them.  I think it's very easy for a customer to use their vision coverage and shop local- there are plenty of local options.
Have you (or do you plan to) have similar campaigns against other online/big box retailers? Or is WP your main focus?
Warby Parker is the company that we have focused on for a several reasons.  First of all, they parked outside of our shop to promote their brand and we feel that was both a great idea and pretty insulting- so we took a page out of their playbook and returned the favor.  Also, we feel like independent shops have given them a free pass collectively for seven years now.  They are media darlings who have taken a chunk out of the income of local shops using narratives that may not be exactly true.  It's almost impossible for any optical shop to get press but Warby gets tons of it. Because of the media attention they get we calculated that the only way for us to get attention would be by trying to step into their spotlight.
There is another side of the Warby story that hasn't been told by the media and I think it's time to explore the other side. Warby has publicly cast themselves in a battle with Luxottica while behind the scenes they seem to be competing directly with the little guy.  We aren't anti-competition and we aren't even anti Warby (we admire those guys a lot), but why do they seemingly pretend to be going up against Lens Crafters and Pearle? It's perfectly fine to compete with the local shops but I suppose they figure that it doesn't make for good publicity or that it doesn't exactly sound socially conscious.  I think that if they had been forthcoming in who their real competition is that their company may not have grown to what has become- and my guess is that they know this too.
Because we wholesale Philly EyeWorks to local shops all around the country, I have the opportunity to speak directly with other opticians and shop owners.  I have mostly heard others tell me that the Warby effect lasts about a year or two; their sales suffer until customers realize that the product that they sell is not exactly the same as they have come to expect from their local optician, at which time they return.  I have heard many opticians tell me that they often have customers bring their Warby frames into their shops for them to replace the Warby lenses with their own lenses that are maybe of a different quality.  Everyone has told me that they really have no other choice but to be patient until their customers return.
We totally respect and appreciate this strategy but I don't feel that it is the best for their businesses. We didn't feel like we should have to just to lose sales and wait it out- we felt like we should try our best to fight them head on.  Why should our small business have to lose sales, even if it is temporary? I feel like our theory that any Warby story can garner attention has proven true for us, and so we may have effectively used that to help our business.
Luxottica represents a totally different competitor to the independent shop. They operate their own large chains and it's just a normal competitive situation. Their shops sell glasses and we (the independents) sell glasses. I think Warby sells a carefully crafted story to sell glasses.  They have made hundreds of millions of dollars from selling their story.  There are many aspects of their story that I take exception to- not just the part that maintains that they are only the answer to Luxottica.  Also while Luxottica competes directly with our shops, many of us sell their products which are purchased at the wholesale level, so Warby really is a totally different threat to us.
Should eyecare professionals be scared of online retailers like WP? What should they look at doing to compete with these types of retailers? Or should they not try to compete on that level?
I know that it runs contrary to the established rules of marketing but I feel like independent shops should be direct with customers that are calling for their prescriptions or coming in to have their eyes checked and are leaving with their prescriptions without giving them a shot at a sale.  Of course it's the customer's prerogative to buy glasses wherever they choose and customers should be treated with respect in this regard- and all others- but in our shop we offer Philly EyeWorks as a similarly priced option and we speak directly about the pitfalls of purchasing online.
We stress the fact that we take insurance, that we have experienced and qualified opticians and other important things like timing issues.  We address Warby Parker by name and point out why they are, in our opinion, much better off purchasing from us.  And that's what I would recommend to all independent shops and small local chains: be sure to have a similarly priced option that is cool and appealing and be direct as to why buying from them is going to be the better option for them.  Supporting local business should be the icing on the cake for them, but first and foremost tell customers why it benefits them.
Do you have any other suggestions for other eyecare professionals that are losing patients to online/big box stores?
Getting attention from the local media for an optical business is virtually impossible unless Warby Parker is part of the story.  I think that local shops would do themselves a lot of good by getting their story and their opinions of Warby out there- I bet that a lot of press coverage could be had if Warby is mentioned. It's been seven years now that they've grown without much opposition by the local shops that they've been negatively impacting and maybe it's time for us to fight back in the American spirit of entrepreneurship.
What all of this goes to show you is that yes, you can do your own thing and be successful. Yes, you can take on much larger competitors and win. In order to do that, however, you need to be smart about it. You need to think outside of the box and do things that you aren't used to doing. The landscape of the industry is changing, and if you want to be successful, then you're going to need to change with it.
Doing the same things you've always done is just going to lead to the same, diminishing results. By shaking things up, you create new opportunities for yourself and your business, and you make it that much harder for large competitions to try and come in and replace what you do – because you can adapt to change and meet the needs of your customers much more quickly than large companies.