— and just a great idea for a second pair
Value eyewear plays an essential role in any ECP's business plan, even in an upscale dispensary. As consumers increasingly turn to the Internet in search of transparency and value, ECPs must offer their patients an assortment of quality eyewear at affordable prices. Now more than ever, the savvy office manager will provide a broad selection of lower-­ priced frames not only to maximize their customer reach, but also to compete with chains, mass merchandisers and online retailers. With insightful, strategic management of a practice's value frame boards, this niche can quickly turn into a high-­volume profit center.
The value eyewear consumer has many profiles. Generally speaking, the typical value eyewear patient utilizes some sort of managed care plan, whether it's Medicare or an employer's vision plan. These plans cover a huge segment of the population which, depending on your location, can represent a very significant portion of your patient base. However, even if your dispensary is in a more affluent area, value eyewear has its place as these patients often times opt for multiple pairs of lower-­priced frames to keep at the office, in the car, at home, etc. In addition, transcending all socio-­economic lines is today's "Bargain Shopper" culture that emerged from the ashes of the recession. Consumers love to get the designer look without paying designer prices. Eyewear is no exception. Getting something for less is, quite simply, the new consumer way of shopping.
Consider the following guidelines to help maximize your return on investment…
1 

Review Your Plans
Adding new plans can quickly increase your customer base. Develop contacts with HR directors of local companies so you can adapt to changes in their vision coverage. By creating strong communication channels, these relationships can become an excellent ongoing source of referrals.
2

  Offer Frame & Lens Programs
Bundling value eyewear with lens options will retain customers, generate volume, and increase margins. These promotions also serve as an effective inventory reduction strategy. Creativity, coupled with smart use of your value frames, will also help you compete with online retailers and big box stores. For example, retain your contact lens patients by designating a display board called "Pajama Frames" whereby patients purchase one-­year worth of contacts, and get their bedtime glasses for only $75. Another way to compete with online retailers is to create a special $99 Frame & Lens Board. Remind your patients that unlike many online eyewear purchases, a complete frame/lens package bought in their offices is always under warranty. Consider offering such packages as cash specials and watch your margins grow. At a time when online and big chain retailers are squeezing ECPs, these pricing specials will enable you not only to compete, but thrive.
3

  Promote Multiple Pairs
Value eyewear is perfect for second-­pair sales. Patients affordably acquire that extra pair of glasses they might not normally buy while the ECP secures an additional sale. Help the patient identify lifestyle needs that would warrant an additional pair. What are their hobbies? Keep a pair in the workshop or golf bag. Do they telecommute part-­time? Have one pair for the office and one at home. Do they have problems driving at night or under bright conditions? Driving glasses can be stored in the glove compartment. Is excessive computer use causing eyestrain? Talk about the benefits of computer glasses. Finally, remember that eyewear is an accessory! Help your patients boost their fashion sense by finding that "fun" pair simply for the sake of sprucing up the wardrobe.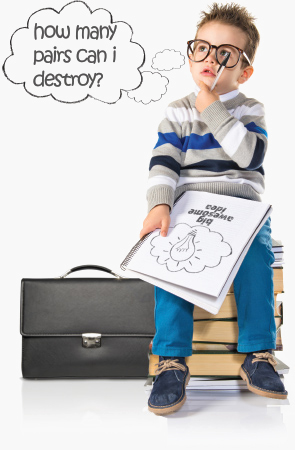 4

  Source a Quality Vendor
Value eyewear does not have to mean junk, and selling poorly made frames will only erode your customer base over time. Buy quality frames from a reputable vendor that backs its products with strong, reliable warranties and friendly, responsive customer service. Evaluate a vendor's product offerings: Are their styles on-­trend with today's fashions? Is the selection broad enough to cover your needs? What is their back order rate? How do they handle returns? Do they have an up-­to-­date, user-­friendly website? Each point is important when deciding which frame supplier(s) to use.
5

  Carry a Diverse Assortment
Value eyewear is more fashionable than ever! These frames have many of the design elements of today's branded collections, but are now accessible to the price-­conscious consumer at a bargain price. Just like the rest of your frame inventory, carry a variety of classic, retro, and modern styles in an assortment of colors and materials including acetate, metal, titanium, or TR90. Offering stylish, yet affordable, options will allow patients to leave your office feeling great in the pocketbook and in the mirror.
Dedicating a portion of your frame inventory to value eyewear makes smart business sense. A careful review of these five guidelines will allow ECPs to better serve patients' needs and effectively compete against big box stores, chains and online retailers. It's a true win-­win scenario!
— Paula J. Weissman – Modern Optical
Vice President of Marketing