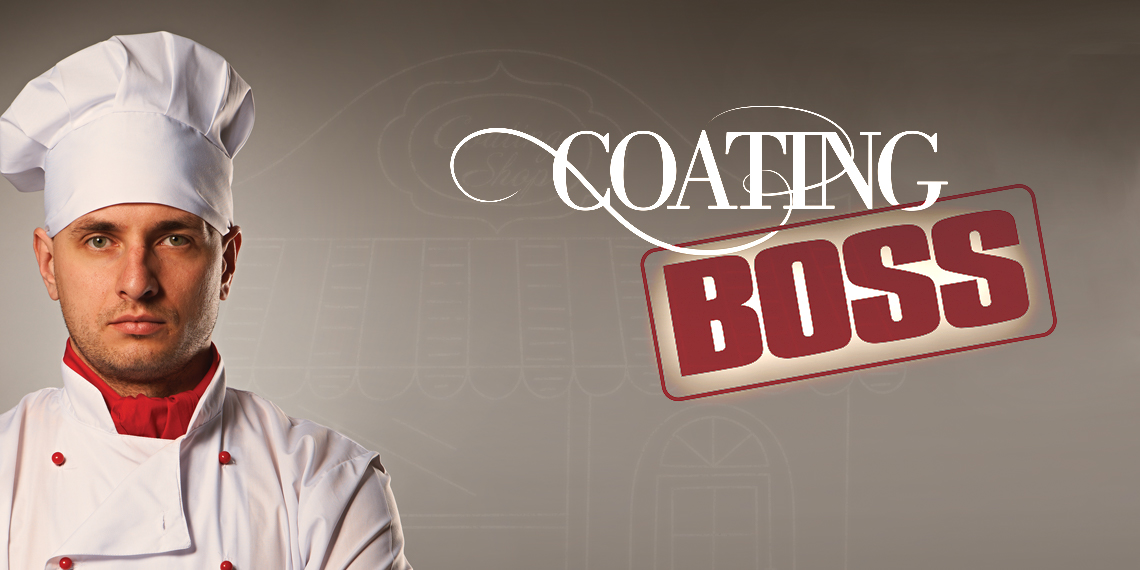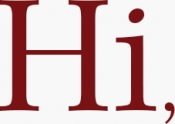 I'm Buddy — welcome to my coating lab! Today I have with me a number of hopeful young men and women that think their coating is the best. Well, I have news for most of them - it's not. At the end of the day, it isn't what they think about their coating, it's what I think. Because I'm the boss.



oday, we are going going to start out with a hard coating. Nice, simple, vanilla. Should be no trouble at all for the seasoned professionals that I have here before me, right? Let's see.

We'll start here with Mary - Mary, what do have for me? The blonde woman on the other side of the stainless steel table in front of him placed a lens down onto a white sheet between them. Buddy looked down at it, then back at her with a somewhat confused look on his face. She smiled at him, oblivious to his facial expression. He looked down again and picked up the lens, holding it at arm's length and peering at her through it. "Why is your lens yellow?" he asked her, as if he didn't already know the answer to the question. Her smile disappeared, replaced by that look children often get when the teacher calls on them to answer a question when they were really, really hoping they'd call on the other kids. "Wha…What do you mean? It's beautiful!" She was trying to pass it off, but had neither the confidence or charisma to convince anyone of it. "How long did you cook this for?" Buddy asked her in a not unkind tone as he tossed the lens back down between them. She looked down at her feet and mumbled something unintelligible. Buddy cupped a hand to his ear "Speak up. How long?" She looked back up at him, "Maybe a day or two. I don't remember." Buddy shook his head, "Let's move on then."

Next up was Tim's entry. He tried to look sympathetic towards Mary, but really he was just glad it was happening to someone else. He did smile a little bit towards the end of her humiliation, but that smile quickly disappeared when Buddy headed over in his direction. "So, what have you got for me today?" Buddy asked, looking down at the lens. Tim moved his hands with a flourish to try and make the piece of plastic sitting between them seem more special than it was. Buddy ignored him and looked down at the lens, "Well, the color certainly looks good," Buddy said as he reached down to pick the lens up, "so now we can see if…" Buddy paused as his fingers closed around the lens. He kept his head pointed towards the table, but his eyes swiveled in their sockets to looks squarely at Tim. "Why is your lens sticky?" Tim instantly went pale, "Sticky? No, it's just…it's just not dried yet, if we wait." Buddy cut him off, "You didn't cook this, did you? If it isn't dried, you didn't cook it. It's not like this is water." Buddy released the lens and was trying to wipe his fingers off on the front of his shirt. "Well, you said you wanted it quickly, so I just thought we could speed it up. It's not like we're making a cake or something." Buddy glared at him, "This is exactly like making a cake. If you overbake it, it's trash. If you underbake it, it's trash. When you cut corners, you make trash. We don't cut corners here." Buddy continued on to the next contestant, while Tim leaned against the table, trying to keep himself steady.

Next up was Brent, who was looking rather pleased with himself. Buddy noticed. "Well, Brent, what is it that makes you so happy?" Brent's little, self-satisfied smile turned into a broad grin, "Well, I know how to use an oven," he chuckled to himself. Buddy seemed at least a little impressed, picking up the lens, "Is that so?" Buddy asked, holding the lens up to the light to get a better look at it. "It's one of the basic things that you should know about before you do this," Brent was pushing it a little bit, as he was starting to get sour looks from Tim and Mary. Those sour looks, however, didn't last very long. They changed into wry grins as Buddy tossed the lens back onto the table, "So is cleaning the lenses before you coat it." Brent quickly picked it up as Buddy walked away. Holding it up to the light, Brent could see it there in the center of the lens. A fingerprint - underneath the coating. No way was that ever coming out.

Julie was next, she stood silently as Buddy approached. She continued to stand there as he picked up her lens and inspected it, "This one actually looks halfway decent, which means that it's finally time to get out some of our tools to measure it, and get down to seeing if this is the real deal or not." Buddy took the lens over to a little station where he had a computer set up with some kind of digital reader attached to it. "Now, this little machine here is going to tell me how thick your coating is. What we want here is consistency - we don't want it too thick or thin, and we definitely don't want it lumpy." Buddy moved the probe over the surface of the lens, and shook his head. "This one here, it's lumpy. What that means is that the lens just isn't going to hold up over time – not with an anti-reflective coating. Sure, it'll look fine for a while, but over time you'll get cracking and crazing - coating failure. And nobody wants to wear that." Buddy stood up from looking at the machine, and turned towards the others in the room. "Not only that, we can take a look at our coating adhesion as well - how good the stuff sticks to it. If your process is bad, then your coating is bad."  Buddy produced some kind of claw-like tool with a bunch of razor blades on it. "Here, we use this friendly little guy to cut a crosshatch into the lens. What this does is make little squares on the lens surface so we can test how well each area of the coating is sticking to the front of the lens. Then we take some special tape, stick it on, and see what comes off." Buddy pulled a roll of tape from his capacious jacket and proceeded to do just that - tear off a length, press it firmly on the lens, and rip. Naturally, part of the coating came off along with it.  Buddy simply shook his head. "Now, that's what I mean. Really, that should not have happened. Usually what we do is keep alternating the lens between boiling and cold water to see how many cycles we can get through before the coating comes off. If you want someone to wear this in the real world, it needs to be able to take some punishment."

Buddy put the lens on the table behind him, and then turned back to address the more-than-slightly dejected contestants. "See, that's what this is about. You don't just want something that looks good right now, you need something that is going to stay that way six months, a year, two years, or more from now. Your customer coming in has no idea how long it's going to last - they aren't in the business of coating lenses. We are." Buddy gave them a moment to let that sink in. "So, as you can see, there is a lot that goes into making a quality coating.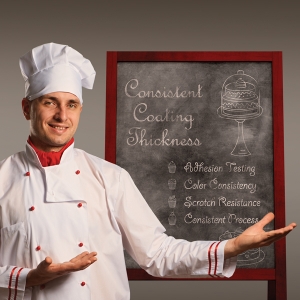 It isn't just a simple process, and there's a whole lot that can go wrong with it. Unfortunately, you may never even be able to tell if the coating that you get is any good until a few months later, when it goes bad. These kinds of things are what separates the run-of-the-mill coating from a really great one. It doesn't matter what someone tells you about it - you need the proof and tests to make sure you're getting the real thing. Don't let them BS you - you'll never know until it's too late. So, until next time, I'm Buddy - the Coating Boss."

Buddy's Coating Quality Checklist
A good coating takes more than a recipe, it needs an experienced professional to get a great result. Sometimes you can't always tell if what you are getting is what you think you're getting. Here's a list of things you should check with your head baker to make sure they can really make a Boss-level coating.
-Buddy Valastro
---