"You really expect to get all this packed by yourself?" Martha asked, glancing briefly at the pile of presents in the hallway before looking back at the jolly old man in front of her. "Don't worry about me, this isn't the first time that I've done this, you know?" Chris smiled at her, adjusting the wire-rimmed glasses that sat upon his nose. His wife simply shook her head, "No, that's terrible," she said, beckoning him over to her, "there's no way you're going anywhere with glasses that crooked. Get over here."

Chris smiled slightly, he knew how much she hated when he played with them. Martha sighed, straightening the eyewear as she spoke, "Just be careful you take it slow, it's cold out there, and you aren't exactly in the best of shape, you know?" she placed the glasses back onto his face, giving him a look that said she knew he wasn't going to listen to her. "You have my word," he said with a slight chuckle, which made his round little belly shake like….a thing….that shakes a lot.
Chris worked slowly, taking box after box from the house to pack the car. Unlike other years, he didn't have his little helpers this time, so he was forced to pack it all himself.
As Martha sat with her eggnog in the kitchen, there arose from the front door such a clatter that she jumped up to see what the heck was the matter. Sprawled out on the floor was her husband, with visions of an emergency room visit dancing in his head. "Are you okay?" she asked, lowering herself to the floor to see to Chris. "I think so," he rubbed his head, "my glasses were so dark when I came back inside, that I guess I couldn't see that box over there," Chris motioned to a somewhat battered-looking present, its green wrapping ripped in several places to reveal the packaging underneath. "Well, what did I tell you when you bought them?" she began, relaxing a little since it seemed Chris was fine, "Those things take forever to get clear. I told you that if you got them, you'd walk back inside, trip on something, and break your neck!" Chris sat up slowly, sighing at the slight dent he put in the drywall with his head. "Ah," he began, "But I didn't break my neck!" She scowled at him, "No, but what about your glasses?"
The broken and battered remains of a frame sat underneath of one of Chris' black boots. A sad, grinding crunch arose when he tried to move his foot, the lenses still dark and blacker than soot. "Did you get that backup pair?" His wife asked, looking down at the completely destroyed pair on the floor. "Well, about that…" Chris began, getting back to his feet. He sort of trailed off, not continuing his sentence. "So you didn't. Great. You know, with how bad your eyes are, a second pair is…." She began, but stopped. There was no use. She just sighed, "Go sit down in the living room, I'll be there in a moment. And try not to fall over anything else on the way." She guided him into the next room, "I'll just grab you an ice pack, do you need anything else?" she asked, heading towards the door to the kitchen. "Cookies and milk?" he asked, hopefully. She stopped and turned to face him, "Just because you hit your head doesn't mean you don't have to stick to your diet, you remember what your cardiologist said," she disappeared into the kitchen for a moment, then reappeared with the ice pack and a plate of celery. He took the ice pack for the growing bump on his head, but left the celery on the side table. "Now, just sit here a few minutes, I'll be right back." She disappeared out of the room for a few minutes while Chris was left sitting there wondering if he could still make it out to the store to get a new pair of eyeglasses that day. It was only three o'clock, and Christmas wasn't until tomorrow, so he should have plenty of time to get them made, he figured.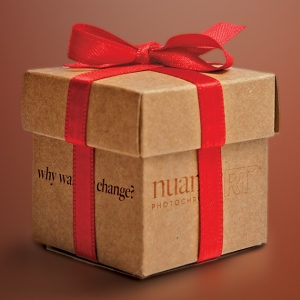 Martha reappeared with a small, wrapped box. "Looks like I got you something that you're actually going to use, this year." She walked over to Chris, holding out the red-and-gold wrapped package. Chris lowered the ice pack to look up at her, "What's this?" he said, placing the ice pack down and taking the package. "Well," she began, sitting in the chair beside her husband, "I wanted to give you something better than what you already were wearing, so I had to find you something that was actually better, so I did a little homework." Chris had unwrapped the box to reveal a sleek, black frame case. He popped it open to reveal a pair of glasses identical to the ones he was wearing just a few minutes ago. Prior to being horrible mangled, that is. "Different? But, they look the same?" Chris asked quizzically.
"You may very well think that," Martha began, "but these get clearer much, much faster. That's the one problem you've always had with your lenses before, but now, you won't have that problem anywhere near as much." Chris picked up the glasses and inspected them carefully, "Even though they look the same? How's that work?" She shrugged, "I don't know, magic lens elves? Do I look like your optician? All I know is that it's faster, which you'll find out when you get back up and finish loading the car." She smiled at him. He sighed, then put the eyeglasses on. He couldn't see anything. These were terrible. "Just let me adjust…." his wife began. "I can't see a thing!" he exclaimed. "That's because they're crooked! As I was saying, just let me adjust them before you tell me how terrible they are." She made her adjustments, then sat back, "And now?"
Chris looked around, then picked up a newspaper to see if he could read. "Much better!" he exclaimed, "now let's see if they work as well as you said they do!" he stood, ready to finish packing the car for their road trip in the morning. He set about the rest of the packing with no incident, managing to fit everything into their vehicle while still leaving enough room for the two of them to fit. Online shopping has made this too easy, how did we end up with this many presents? He thought to himself as he crammed the last of them in.
"Well, how are they?" Martha asked as Chris entered the house a final time. "I'm impressed," he began, "with how bright it is outside, and how dark that front hall is, I thought for sure that I'd have trouble again." He sat down in a chair, "It's amazing though, they started to go clear almost right away, making me feel a whole lot safer about going in and out again." She smiled, "So I guess that means you like your present, then?" He stood up and walked over to her, giving her a hug, "Of course I do, these are probably the best pair of glasses I've ever had. What are they called?" She returned the hug, "They're called NuanceRT."
– Clement Clarke Moore