At FEA, we are focused on providing the best combination of value, performance, service, and technology to our customers. We aren't concerned with jacking up our prices so you can pay more for a brand name. We want to be able to offer the best vision for your patient, while making sure you can run your business cost-effectively.

Eagle™ progressive lenses give you an option of over a dozen different progressive designs, and have the widest material availability that rivals that of any other lens. It is one of the few (perhaps only) lens design available in glass as well as all of the other materials you would expect from a premium lens.
Running three shifts, we deal with customers from across the country. With late shipping options, it becomes possible to get work back into your hands sooner than ever. You know the kind of competition that you're up against, whether it's an online shop or a large chain store. You need a lab partner that's going to help you to stay competitive and retain customers. Not one that is going to send your job to a lab in another country to have it made. Finding a lab partner that is both cost-effective and consistent is a major cornerstone to the success of your business.
You also need products that are better than what your customer can get elsewhere. If you have the same thing that everyone else does – what makes you special? That's why we offer products such as Independence® AR Coatings, which come with a lifetime warranty. Or NuanceRT™ photochromic lenses, that go from dark to clear in about half the time of other lenses. These give you a leg up on capturing sales and keeping them in your office.
At FEA we also strongly support independents in the optical business, whether it's retailers, manufacturers, or other labs. This is part of the reason we don't really carry any major branded lens products. Our product offerings are robust enough and perform at least as well as any of the name brand products that you pay more for elsewhere. We're also a proud supporter of opt MAGAZINE
(www.optmagazine.com), which is focused on promoting independent optical across the country.
Featured Premium Products
★ Independence® Anti-Reflective Coatings
★ SerenityHEV™ Blue Light Protection
★ No longer offering Shamir products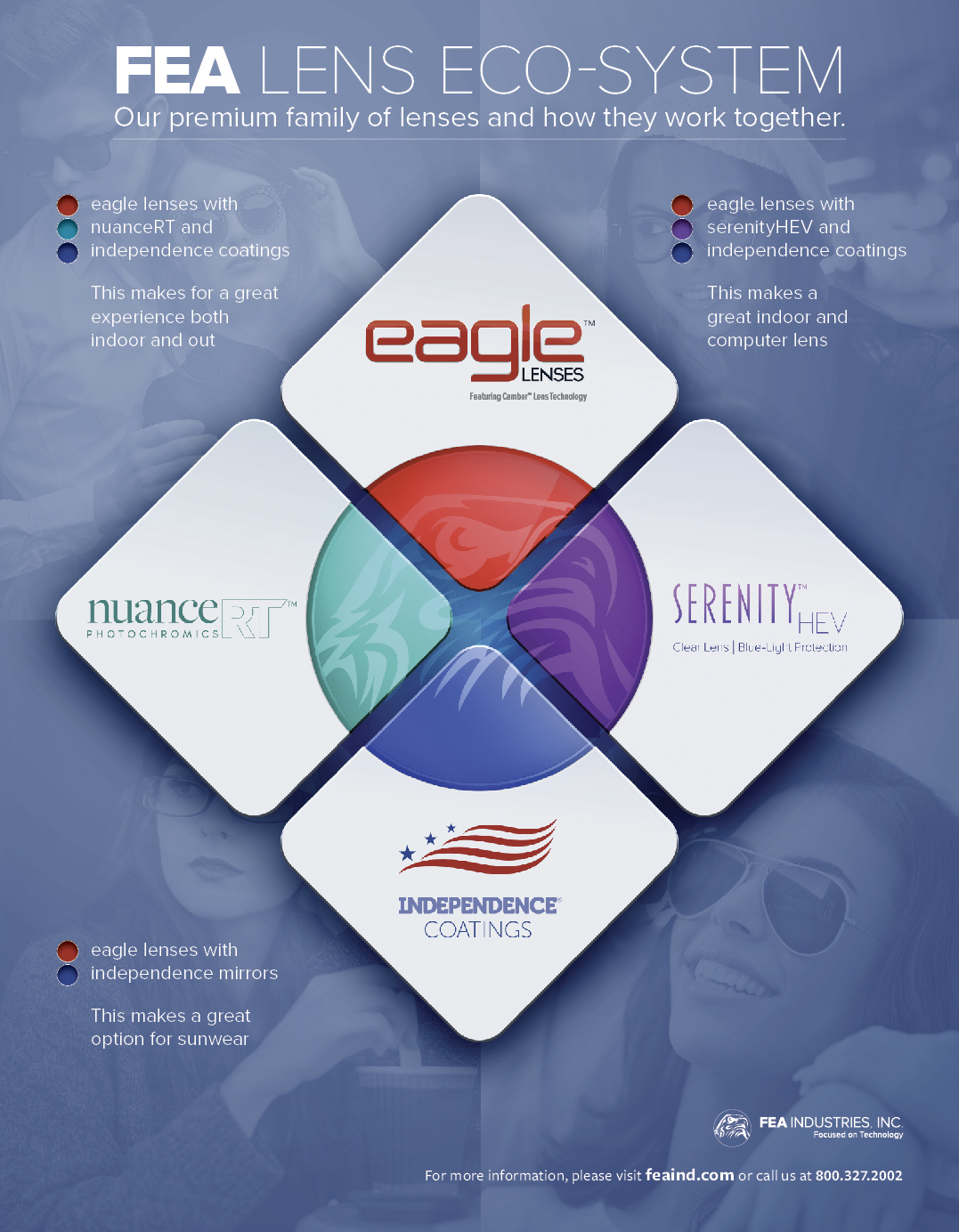 ---