How the Internet Brought Down a Private ECP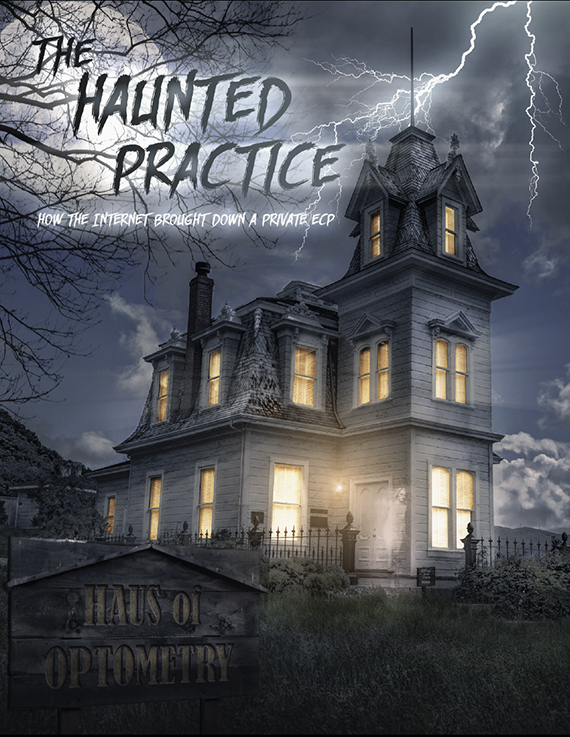 An optometrist's office sits empty in the Midwest despite the early afternoon hour. If one listens closely voices can be heard whispering though no one has entered. A stack of brochures scatters along the counter as if a breeze had passed through, though there are no open windows or doors. What was once a thriving business has become an empty shell, inhabited only by the remnants of its past…
Our team was called in to investigate this office by observing and interviewing the former staff. All the witnesses have one thing in common-they all spoke of a presence that seemed to compel their customers to seek services elsewhere.
One staff member, identified only as Mary, recounted this incident from 2007, "I saw with my own eyes what happened when some of our patients discovered websites where they could purchase their glasses online. Suddenly our selection wasn't big enough, or the price was too much, even with our customer loyalty discounts and monthly specials. Patients would ask for their prescriptions with their P.D measurements included, and when we complied, we were lucky to see them again for another year. We lost so many sales to the Internet; our dispensary was like a graveyard."
Mary continued, "A couple of months later the family stopped by, quite upset. It seems they had purchased glasses from an online retailer for five family members, and while three of them were happy with their glasses, the other two were not. They asked us for help. It seems the daughter could not wear her new glasses because it felt as if her eyes were being pulled in opposite directions each time she put them on, and the father could not read fine print with his new purchase.
Though the glasses had come from elsewhere, as a courtesy we inspected them, and discovered the measurements for the daughter's P.D. were far off what we had recorded, and the father's bifocal height was 4 millimeters below where it should be, effectively eliminating the reading zone. He had not received bifocal heights from us, naturally, so we asked where they were obtained, and he admitted he had taken them himself from directions on the website.
We advised the family of the problems with their order, and the corrections they needed to request from the website. They thanked us and left, but did not return again."
Another employee, Sandra, added, "Soon after this family came to us for assistance, other families began bringing their Internet eyewear to us, looking for free inspections and re-measurement of their specs. Our doctors were concerned this assistance was taking up too much of our time from paying customers, and established a policy that we would no longer inspect or repair products not purchased in our office. Instead of freeing our time, though, we started losing more patients."
The foundation of this office was built like many others-good customer care, with convenient products for in-house ordering of glasses and contact lenses. This office was not equipped to deal with forces like the Internet, and it showed in the continued decline the business experienced. Clearly some intervention was needed to purge the ghostly presences from this office.
After concluding our research we sat down with the owners, a middle-aged couple of optometrists who had built this practice from the ground up, and who were devoted to their patients. We summarized our findings as we broke the news to them, "your office policies are rooted in the past. You are losing patients because you are being haunted by yesterday's methodology. You need to embrace modern technology like the Internet to free your office from these apparitions."
"How does one compete with the Internet?" asked the female optometrist, who wore a stylish pair of frames available on the display board.
Here we offered advice based on our extensive research with other failing and haunted businesses: "The key is to offset the advantages of online shopping with continued and unmatchable personal service, something no website can deliver. A foundation of strong customer service can allow you to retain more patients for exams and other services to help counter the sales lost to the Internet. Instead of refusing to check lenses, or even make lenses for a frame purchased online, offer tailored services especially for Internet patients which will help to insure customer loyalty. Accept frames purchased elsewhere for lenses orders. A simple form waiver can be available for any liability concerns.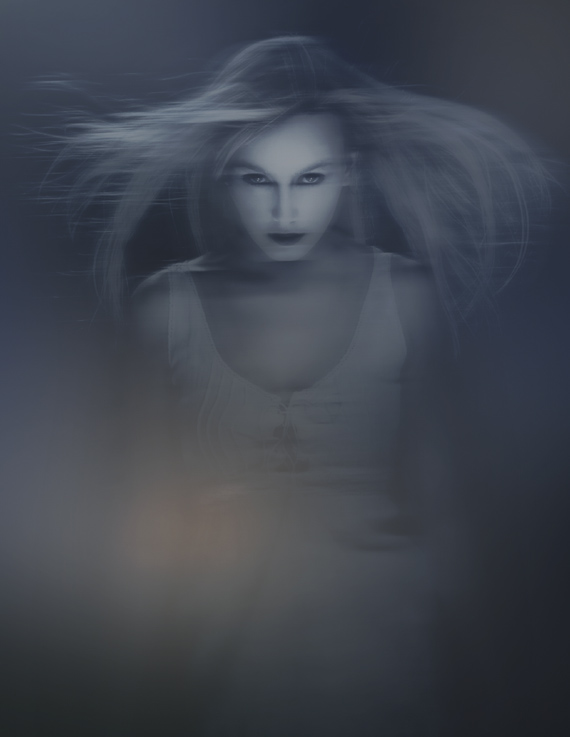 Remind patients that when they buy their contacts from you, they can be eligible for a manufacturer's rebate that yes, in most cases, they can fill out online. They can also have their lenses come directly to the office, which is safer if they happen to go out of town. For those patients who choose to fill their orders elsewhere, remind them that certain contact lens manufacturer, offer rebates on annual contact lens fittings when they see their doctor."
"Is there more we should be doing to become competitive again?" the husband spoke up.
"Yes, put the Internet to work for you-build your own website, offering appointment setting, copies of prescriptions and doctor contact by email, and convenient reordering of contact lenses. Try offering your loyal patients downloadable coupons to sway their repeat business. If you don't have your own I.T. department or if this process seems too overwhelming, there are numerous companies that offer website building and hosting services, including writing posts and designing ads, keeping in mind that these services usually come with a monthly fee.
Get involved with your patients by creating a social media presence through Facebook, Twitter or Pinterest where you can welcome opinions, share stories from other patients, and post notices about upcoming specials. Above all, reach out to your patients, and meet them halfway as they continue to embrace technology."
Equipped with the right tools, the owners began to purge their business of the lingering presence of past customers. The ideology of good service would remain, while they began to implement new technology, and rebuilt their practice with an eye toward the future.
The moral: Don't let your office be haunted by the patients and policies of the past. Embrace technology, and attract tomorrow's patients.
---
Amy is a dual-licensed optician in Ohio with more than seventeen years experience in every aspect of the industry, from insurance billing to lab work. Amy is also a writer with a BA in English, a blogger, and a soon-to-be published author. You can read her blog at amycaudill.net