In continuing our look at schools of optometry across the country, we wanted to take a look at the newest one – the Kentucky College of Optometry (KYCO), located at the University of Pikeville. Since they don't actually have any students yet, as their first class begins this fall, I spoke with Dr. Andrew Buzzelli, the Founding Dean of KYCO.
Q: So, Dr. Buzzelli, why open a new school of optometry?
Why at Pikeville University?
A new school was proposed in the Central Appalachia region to address several needs in the area. KYCO was envisioned as an access school. An access school serves multiple missions. As always, a college of Optometry will provide a quality professional clinical education for the adult learners who choose Optometry as their vocation in life. KYCO serves besides this mission, the mission of access; access to quality vision care in rural America particularly Appalachia. Medicine has long had the concept of rural medicine. We do have optometrists who practice rurally but as a specialty within the profession of Optometry, it is not a well-established area of clinical care. Rural is defined not in terms of a location but in terms of a population which is underserved and, in many areas, completely unserved. A look at the recent statistical analysis by the Center for Disease Control shows that this area is among the highest areas of blindness due to secondary factors such as diabetes and hypertension in the country. In fact, Owsley County near the College is the county with the most reported incidence of blindness in America.
It is also termed a school of access because it is our job to provide a professional education to students who are not often exposed to the idea of postgraduate professional education. These individuals live in an environment which in years past has been handicapped in the ability to provide even undergraduate educational opportunities. This is recognized in the fact that much of the schools funding comes through the Department of Agriculture in rural funding grants. The college has been referred to in local publications and broadcast media as a "Vision of Hope" for central Appalachia and all of rural America.
Q: Is there anything that makes KYCO different from other optometry schools?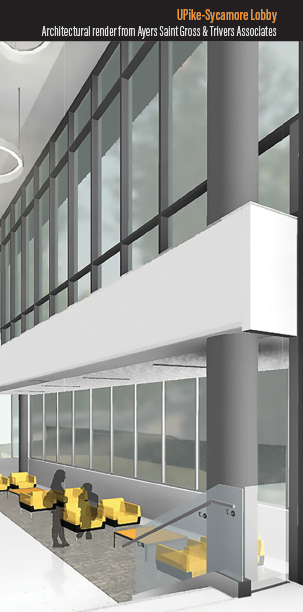 KYCO will have several distinct areas of academic and clinical abilities. The biggest opportunity will be that the college is designed to take advantage of the expanded scope of practice that has been gained by the Optometrists of Kentucky and the Kentucky Optometric Board of Examiners. Our Optometric students will be trained in primary care, laser procedures and other primary care periocular procedures as a significant part of their curriculum.
They will have three separate credit courses devoted to the science and clinical protocols for surgical treatment of specific ocular abnormalities. This will be joined together with the clinical performance of these procedures as a routine portion of their clinical training.
The main clinical treatment programs will be in Pikeville Medical Center, as opposed to more traditional academic clinical settings. The students will also be performing work at three federally qualified health centers (FQHC). These areas have populations of patients which had no access to vision care previous to their agreements with the University of Pikeville. Our graduates will be well trained not only in the primary care diagnostic and treatment protocols of an Optometric Physician but will also be well trained and experienced in the ocular surgical procedures permitted by the Kentucky Board of Optometric Examiners. They will have a significant number of patient encounters for surgical treatment which they will perform under close faculty supervision.
The second arena which will be new to the learners at KYCO will be their exposure to the world of virtual reality in education. Their basic sciences, gross anatomy and neuroanatomy as a start, will have laboratories whose presentation will be all through virtual reality. Gross anatomy dissection, neuroanatomy presentation, and classroom presentations of ocular anatomy will present lifelike 3-D human replicas for the students to work on. These virtual laboratories were recently selected to upgrade education at leading Medical Colleges in the United States. Harvard University, Cornell University, The University of Chicago, University of Iowa and Arizona State University have all switched to virtual reality pedagogies in their medical school's basic science programs. Virtual reality now can provide real life clinical training in a laboratory environment. This will be coupled with the new advances in virtual reality in ocular examination and diagnosis of the patient which have been currently made available through VR Magic. The students will be exposed to a variety of basic and advanced complicated ocular diseases on a 24 hour 7 day a week basis at self-paced virtual laboratories. The college is differentiated clearly not only by the Optometry curriculum of the future but also the educational technology of the future.
Q: How do you prepare your students to enter in to the 'real-world', in terms of non-clinical skills?
KYCO is a state of the art academic facility in a new $55 million dollar facility which includes more than $9 million dollars in advanced educational and Optometric training equipment. This includes all the necessary surgical facilities to train the Optometrist of the future. Because we are an access school, we will provide adequate training in business skills together with our industry partners, the experts in this area.
If we go back again and look at the fact that we are an access school, we will see that we have a very different thrust on where we expect our students to practice. Our students take specialized personal development courses along with their optometric courses to prepare for what we expect of the graduate who serves. The students take courses in not only professional development – where normal practice management is covered – but they have a significant number of course hours in diversity, interprofessional collaboration, Appalachian culture, and personal development as a professional and, most importantly, leadership.
We prepare our students to practice in the rapidly changing landscape of health care. They work from their earliest clinical trainings in a hospital center. They spend many hours in Federally Qualified Health Centers learning about the potential models of collaborative healthcare, which are a large part of the future of healthcare. They will employ new technology and new business skills by employing the leadership skills and dedication to underserved populations which are expected of each of our graduates. They will spend two semesters of actual classroom instruction and laboratories learning what it takes to become a doctor dedicated to service in rural America.
Q: How do you see the influx of new students?
Are you getting more or fewer than expected?
From your role as an educator, do you see interest in optometry growing or declining?
The question about new students and overpopulating the profession of optometry is one that I have answered hundreds of times in the last year and a half. I have answered it many times even before this since my own graduation from the Illinois College of Optometry when it appeared that a lack of Optometry's inclusion in Medicare would be the death for the profession. The influx of new students into the profession will never be answered by surveys and, in fact, is unrelated to the future for optometry. The future of optometry will always be found in its passionate delivery of vision care to its patients.
I lived through the early questions about going to a medical model of Optometry trying to utilize pharmaceutical agents for our patients. There were as many critics in the past as there were proponents of expanding the scope of practice for Optometry. Now it is almost a given that Optometry's scope of practice in almost all states serves its patients better and protects the vision of its patients at an unparalleled level of excellence. We can fall back into the old fears and doubts about the number of students affecting the practice of optometry. We can answer yet again all of the wrong questions about Optometry. We can expend unnecessary emotional energy on how many students submit applications to our schools or we can direct our focus to what has made Optometry great focus on expanded the vision care treatment protocols which benefit our patients. The Colleges need to graduate each student eager to join the professional association and be responsible for demanding all of the Primary Care diagnostic and treatment protocols their patients are entitled to receive. The answer lies in the expansion of the practice of primary care Optometry. KYCO is one of the answers to the future of the practice of optometry.

The fact that we will graduate 60 new students who have the well prepared ability to perform primary care surgical procedures is the launching point for the future. One of our great sister schools, Northeastern State University College of Optometry has been exceptional in their ability to provide this service across the country until now.
Now, Optometry has two resources to begin to improve the access and level of visual care for our patients. It was made clear as we began the school that it would be very difficult to put a school in Central Appalachia. I was told many times that even if we had a school, we could never attract faculty to this region. We had 17 applications the first day our ads began to appear. There were many who doubted any student would want to come to this beautiful area of our country to study.
If Optometry focuses on its patients, and the schools provide students to our state associations, we will win the rights of primary care for all of Optometry, including its right to perform primary care surgical procedures. In this scenario it is unlikely we'll ever have enough optometrists to fill the need of the population. No, I don't believe that the optometry sky is falling; I am a strong believer that the best days of the profession of Optometry are still ahead of it.
KYCO just labored through the new standards for Optometry set forth by the Accreditation Council for Optometric Education. The standards were among the most rigorous that I have ever encountered. The depth, scope, and financial demands of starting a new school were developed with a thoroughness that I had not seen even in the military hospital inspections that I have prepared for. The new standards developed for Optometry schools are ones which we can be very proud. Optometric education is held to a quality and thoroughness by the Accreditation Council that can only result in the exceptional quality graduate that our future practice of Optometry demands.
---
So, that's our look at KYCO, which seems poised to help bring the best and brightest into the field. If you have any questions about the university, or anything you'd like to know about upcoming universities, please let us know by sending us an email to:
editor@optmagazine.com
— Special Thanks to Andrew R. Buzzelli, O.D., M.S.
Kentucky College of Optometry, Founding Dean