Our experience with color typically begins with a sensation that is an actual, physical event that stimulates us on a variety of levels. But are we always consciously aware of how color is stimulating us? In this article, we will take a quick peek at what is happening 'behind the scenes' in our minds and the effects that color can have on our mood and personality.

Color Perception: More than meets the eye
The average person has 5 senses that connect them to the world around them; sight, hearing, taste, smell and touch. Vision is the most important of these senses and, as human beings, we are drawn to light and to color. Each one of the 5 senses is actually an incomplete event when it happens. When one of these senses, like vision, for example, is triggered it is immediately followed by perception. Perception offers us an understanding and awareness for when a sensory event is triggered. It helps us to identify a sensation and better focus the stimuli we have towards what we are seeing. Color plays a significant role when it comes to this recognition of perceptions and allows us to place a 'value' on what we are seeing. Sometimes we do it consciously like using a red folder to identify bills or to call-out important information; sometimes subconsciously, when our mood is changed when we see the warm amber glow of a fireplace.
Color can change how our body feels. Changing the strength of the color can further manipulate this stimulation we experience. There are biological responses known as phasic arousal that are quick, short bursts (like adrenalin) of response to a color and based on a situation. These are the much more immediate, 'first impression' responses and reactions that we can have towards color. The stronger the color, the stronger the impact.
A longer lasting biological response to color is known as tonic arousal. This is much more normal for a body to experience and is achieved as the brain makes constant adjustments to keep this mood or feeling. This typically occurs after the initial phasic arousal experience and drives this emotional response long afterwards. These are some of the tricks that designers (graphic and interior designers) can use to invoke a mood, play on our emotions and alter our behavior. Designers use color to direct a viewer's eye through a design or call attention to information, but can also use it to manipulate, stimulate, excite, arouse, depress or calm a viewer.
I'm feeling blue… or am I?
How often have you heard someone use that expression or have used it yourself? Is it a neurological response to the shortened lightwaves of the color blue that makes us sad? Or is there an association with something blue that happened long ago that this phrase was coined from? It is a cool, comfortable color that can relax us. If you google "where does the expression feeling blue come from", you will get a myriad of results and opinions that may or may not be correct. Don't you just love the internet? Anyway, there are several plausible explanations/reasons for this expression (far beyond the scope of this article) but ultimately it means sad. So when we hear someone say that, we immediately have an emotional response, feel empathy and have our own association to feeling blue before we can even ask them 'why?'.
Color, like so many other things around us, is also subjective. It doesn't always mean the same thing to other people and is not always seen the same way. Color is also seen differently by people. My fovea, rods and cones are different than yours which are different with everyone. On average, for most people without an eye disease or issue, they function the same. They give us a good 'ballpark' or a shared color experience with others, but remember that everyone is as unique as a snowflake and no two will ever see the same.
Personal experiences and associations will also vary the impression of blue. There are, some people, that just don't have a bad day and everything is positive in their world, including their colors. I'm an artist and a designer… I am grounded and reality based. My colors in life tend to be darker, moodier, more brooding… black, cool grays, deep tones. These colors make me feel comfortable and they align with my personality. My significant other however has the complete opposite personality and colors in her wardrobe. Bright, cheery, vibrant colors that align with her personality. Funny enough, our color palettes are completely opposite on the color wheel and you know what they say about 'opposites attracting', but I digress… Clearly there is some link or connection between our personalities, behaviors, and colors but where does it come from? Some attribute it to the personal relationships and associations we've had with color in past experiences. Others may say that it is a product of our environment or a byproduct of social and/or cultural influences.
Colors, Countries and Cultures
With the advent of the Olympic games this year, nowhere do you have such a gathering of people from all through-out the world. Countries are represented by their athletes and fans and they all carry the colors of their country found on their respective flags. The colors of the flag is very important to those representing each country. These colors have meaning and stand for something. Those that are carrying the flag and supporting their respective country, have strong associations with those colors. Yes, the way the colors are arranged and the supporting graphics also give meaning, but the colors are the strongest. I can say 'the Red White and Blue' without showing you a U.S. flag and you will still likely associate with it because you know what it means and what it represents. It can also generate feelings and evoke moods within people.
Why are there different colors that represent different countries? Some of it has to do with things like climate, the environment, and the landscape of these countries. Colors that are indigenous to those regions. Some colors were perhaps chosen by a single person that viewed a particular color to stand for something that they, in turn, wanted their country to be represented by. Whomever was in charge of creating the colors for a countries' flag, used a myriad of things to determine what colors were going to be used. Their world around was often used to draw inspiration.
Even though we are under the Red White and Blue here in the United States, if I say 'desert southwest colors', there is an immediate association with certain colors indicative of that region, like burnt orange, teal and golden yellow. Colors in this region are often warm and feel a little 'dry' or less saturated. These colors are found in the environment and are colors used, for example, by the Native Americans that relate to their surroundings and represent certain things to them. The colors of the sunsets and how they affect the color of the rocks in the canyons and deserts, among other things, are part of their culture and are represented in their clothing and apparel. If I say 'pacific northwest colors', darker, cooler, grayer saturated colors come to mind because of our association (and/or knowledge) of that particular region because it's typically cool and wet. This isn't always the case with all colors, countries and cultures but it is one example of how color makes us feel. Think about your environment (dispensary) and how it might be making you or your customers feel.
Color Symbolism and Meaning
Our responses to color are not just biological but are also influenced by the associations we have from our culture and our environment. Color has been adopted to represent certain things to us but still won't ever mean the same to everyone. Take our society, for example. We have lots of streets with cars and traffic lights. We know what red, yellow and green mean as they pertain to these lights because it is common place in our society and further enforced through teachings in school and drivers ed. But what if we were to put a traffic light, say, in the middle of the Amazon rainforest where there are tribes that have no contact with the outside world. What do these colors mean to them?
Color has been averaged, grouped and categorized to make understanding them a little bit easier for us over the years. It may sound a bit harsh that color has been 'treated' this way but it's not all that bad because of how it helps us today. The color wheel itself is a trimmed down version of the gazillions of colors available in our visible spectrum, which we use as a guide.
'Feeling' Your Color
The following page shows a simple sampling of the basic colors and what some of the positives and negatives of each color are. This color guide is merely to help you understand color traits a little better. It is also a good starting point for you to 'ballpark' a color choice if you need one. This basic understanding of colors can be used as a reference for let's say, the colors of your logo or website. The colors of the walls and floors in your dispensary. Even the color of frames and what type of personality it can offer to a customer.
Color has a powerful psychological impact on people's behavior and decisions. Open a yellow umbrella on a rainy day and you'll make someone happy. Designers and marketers tap into this to create an emotional response and to stimulate you to purchase something. Color can be the reason why a patient feels comfortable (or uncomfortable) in your dispensary and can also be a trigger for making a purchase simply because of 'how it makes them feel'. So ask yourself, what color are you feeling?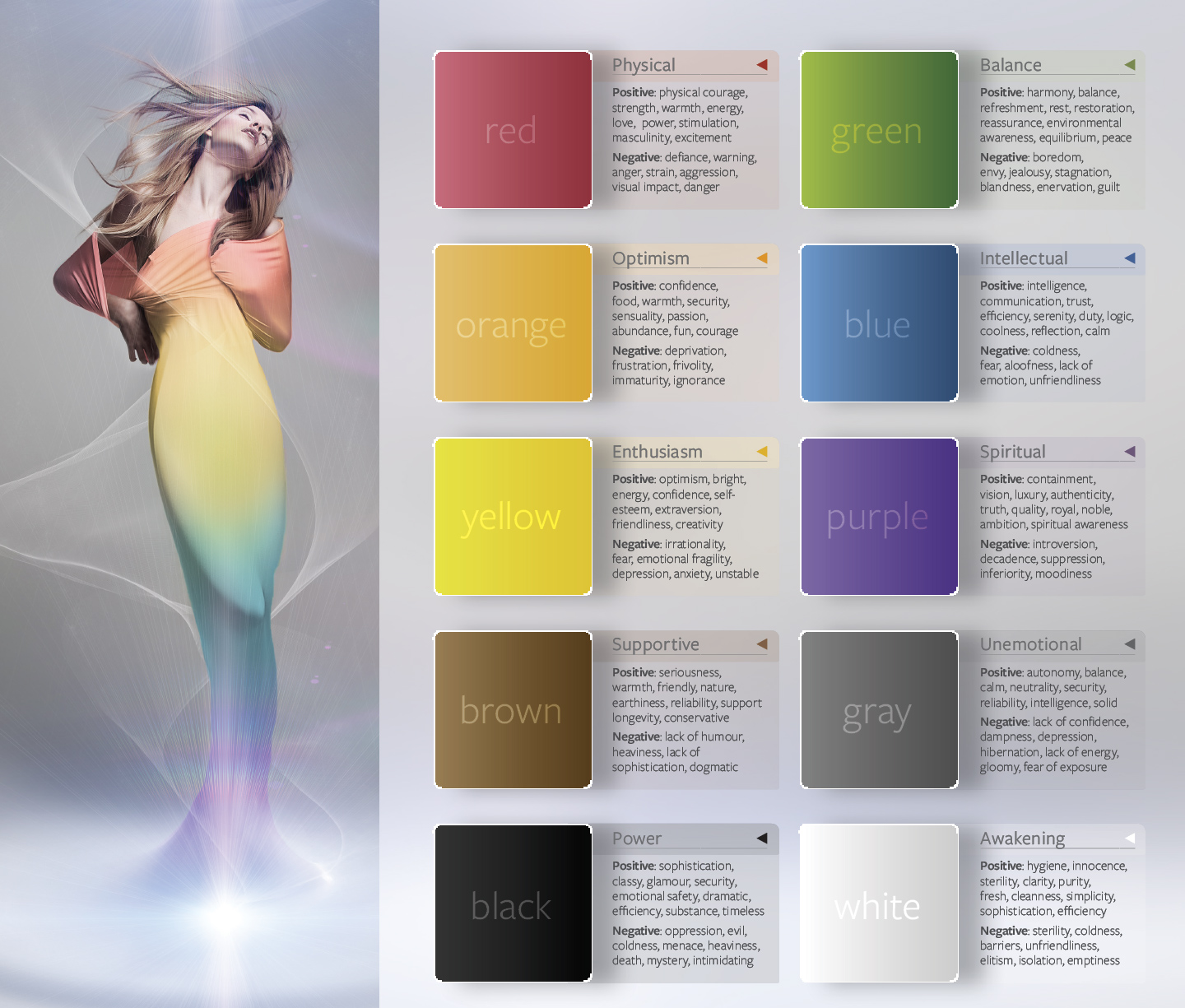 — Robert Norman "Bob" Ross